About us
Tandem Global Logistics Network opened its headquarter in Rotterdam, Netherlands in 2007 and established Tandem Global Logistics Japan Co, Ltd. in 2010. We started international freight forwarding in ocean/air freight by transferring the business from Tandem Net Dept. within International Transport Division of Azuma Shipping Co., Ltd., ex-representative of Tandem Global Logistics in Japan. Tandem Global Logistics Network has currently over 400 forwarding bases in 80 countries and aims to provide safe, sure, and efficient transport and improving services to customers.
We propose usual ocean/air transport and also combined transport to meet with customers' needs. Through the logistics network over 80 countries in the world, our specialized logistics coordinators provide logistics services adequate to customers from LCL cargos to big plant transport, keeping cargos inside and outside the country and export/import custom clearances.
Message from President
We provide safe and sure worldwide transport with higher quality services in international transport industry based on customer first policy.
Recently with the rapid economic globalization, international transport becomes the important part of companies.
Tandem Japan was founded in 2010 as a member of Tandem Group, specialized group of ocean and air freight based in Netherlands.
We make our efforts as an international freight forwarder under the basic policy of worldwide economic growth and safety, certainty and efficiency of customers.
Our transport network over 80 countries makes us easy to respond customers'
needs and give transport information promptly. We offer reliable and satisfactory services in aiming to build a system for closer communication with customers.
Tsutomu Yamamoto
President
Company profile
Company Name:

Tandem Global Logistics Japan Co., Ltd.

Established:

June 8, 2010

Head Office:

Oak Sakuragicho Bldg., 6-113, Aioicho, Naka-ku, Yokohama, Kanagawa
231-0012 Japan
TEL:+81-45-228-7174(main)
TEL:+81-45-228-7184 (Ocean Cargo/Air Cargo division)
FAX: +81-45-228-7194

Paid-In-Capital:

JPY50,000,000

Representative:

Tsutomu Yamamoto, President

Major Shareholders:

Main Banks:

Sumitomo-Mitsui Banking Corporation
Mizuho Bank, Ltd.

Main Activities:

International Freight Fowarding (Ocean and Air Freight)

Affiliates:

Japan International Freight Forwarders Association, Inc. (JIFFA)
Japan Aircargo Forwarders Association (JAFA)
The Yokohama Chamber of Commerce & Industry

URL:

http://tandemjapan.co.jp.
Domestic Network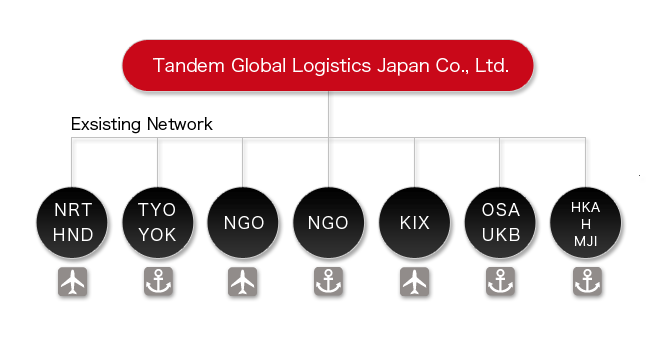 Services for areas not covered by our existing network are also available.
Organization